Incandecense has gathered quite the crowd as he holds court at a small hot spring at the Song of the Rainbow Hotsprings, an impressive sight with the light from his substantial flames reflecting and dancing on his golden armor and adornments.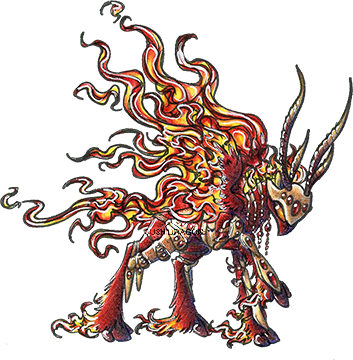 At his side stands an earth Elemental filly, her head held high as she preens with the attention she's garnered as the stallion's companion.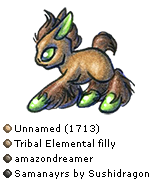 Once a sufficient crowd has gathered, the stallion raises his head and stomps a hoof for silence, which falls quickly.
"During my travels I came across this youngling, lost and abandoned with no memory of her family. Although we searched for her Song we were unable to locate it, and as far as I could tell, no other Samanayrs had been in the area recently.
"She is an earth Elemental, but we do not yet know if her affinity lies with plant or stone, or both." He smiles down at the filly fondly, who beams back. "What we do know is she will be raised as I was, to become a Tribal Elemental.
"Although I will remain her mentor as she grows, she does need a home with other Samanayrs, Tribal or not."
"Why not raise her yourself?" someone calls from the group, anonymous in the shadows. Incandecense gazes in the direction of the voice, his expression neutral but his eyes blazing. He opens his mouth to speak but the filly beats him to it, her voice rising clearly.
"Father Flame said I could stay with him, but he needs a Lady Flame and I need to not be going for a bit."
After a murmur of confusion, Incandencese clarifies: "I am just beginning my search for mares and do not yet have a home territory, and she would prefer to stay with a stable family while I build my own. She has been very emphatic about her desire to be 'not going,'" he says, with a fond smile for the filly.
The word has gone out: before the end of the Festival and New Spring, Incandecense and "Little Earth" would like to find a home for her.
--
"Little Earth" is a multi-stage growing Sam, the first one in a very long time XD; Here's everything you need to know about them:
viewtopic.php?f=4&t=1752
If you'd like a chance to bring Little Earth home, all you need to do is tell her all about the home you'd be bringing her to! She's looking for a family so a Song would probably be her best bet, although she might be willing to head out with the right single Sam.
Just describe the Samanayr(s) she would be living with and their home, hot spring or otherwise. I'll be narrowing it down to three finalists and then randomly choosing a winner from the top three!
Rules and info
- There is a limit of one entry per person.
- I won't be reading entries until the event is over so you can edit your entry before then if you want to.
- If you adopt Little Earth you can decide if she's plant- or stone/metal/etc-oriented, or both.
- You should own at least one Samanayr, since Little Earth is looking for at least one parent. She will not be considered an official part of their Song as far as the database goes but will consider them her adopted parent.
- Entries will be judged on creativity, editing (check your spelling and punctuation!), and suitability for Little Earth.
- You can include visuals with your entry but please include a written description too! You can be as detailed or as vague as you'd like.
- You can enter this event even if you have a multi-stage Sam that isn't grown.
Everyone who enters will receive a random modiem and there will be an extra prize for the other two finalists as well

To enter, just send me a PM with the subject "For Little Earth". No form to fill out, just include your description! The event will be open until
April 26, 10am PDT
.
Good luck, have fun, and I hope this inspires you to flesh out your own Samanayrs' stories, if that's the kind of thing you like to do!