This year I'm going to be holding a draw each month for a pet based on that month's birth flower, for people whose birthday is that month

One lucky person will win the pet and everyone in the draw receives a delicious piece of Funfetti Cake, a tradeable item worth 5 points and only available in 2017!

Florapins are a new kind of pet that closely resemble rabbits and hares with a plant of some kind growing on their back. Here's the (belated) Florapin for November, sprouting a good crop of Chrysanthemums: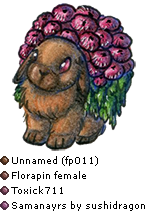 If your birthday is in November, please reply to this thread with the date of your birthday

The draw will be open until December 1. Good luck!