---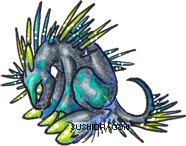 The deep scent of pine trees and fallen needles filled the air for miles around. Up here the air was always crisp, even in the middle of summer. Scorching temperatures never touched this place, and yet the winters were mild enough for the local Songs to continued foraging in comfort all season long. Yes, they had to grow somewhat thicker, shaggier coats to manage, but nothing to rival the lands not too much further north where only a Northern Samanayr would be able to live in comfort. It wasn't the perfect place to live; natural hot springs were few and plenty of predators found the place quite cozy as well, but if you kept your wits about you, you could do well in this place. And honestly, you'd have to keep your wits around you in most any environment.

Every place had its own challenges, but for Flight of the Forest Arrow this was the perfect place to start a Song. His mare, Twirl of Fallen Leaves, was a little less enthused about the place, but she would come around, he was sure of it. There were still a few leafy trees mixed in with all the evergreens. They'd make sure to found their Song as near to some of those as possible. But this sort of forest was where Flight had been born and raised, and it was where he loved. Surely Twirl could get used to the fresh green year round instead of the depressing sight of naked tree branches reaching for the sky. She had agreed to come here after all. Oh, Flight had left the pine forests for the sake of seeking out a mare or two, but when he'd found one who was quite willing to live outside of the sweltering heat of the tropical forests that so many seemed to prefer he had been delighted! Unfortunately, his dream forest didn't quite match up with hers, a fact he only came to realize after he had happily brought her here to one of the handful of pine forests.

Twirl sighed as she looked out over the unrelenting greenery that faced her. No, this wasn't what she had expected when the handsome draconic winged stallion had come a courting. His splendid wings and tail so like her own had drawn her to him even before she had found where he wanted to live. But the image he had painted in her mind had failed to include the little fact of just what sort of trees she could expect to see in her new home. She knew that the sight of all those leafless trees, sleeping away the winter, had bothered him in some way. But in the same sort of way, the sight of all this greenery during the winter seemed almost unnatural. Oh, the odd pine tree mixed in with the rest of the leafless trees wasn't so bad. But here the ratio was reversed. And how could it be autumn without the falling leaves to dance with and pretend that she was flying? With a sigh Twirl followed her anxious young stallion deeper into the forest. For him she was willing to try this.

The first winter the young pair spent in the pine forest was an odd one for both of them. Twirl was a slightly older mare, she had been away from her birth Song for almost two years now. She was used to being mostly alone by now, never really having joined one of the bachelor mare Songs. It was having the near constant company that was odd, as well as the strange forest that she found herself in. But Flight had only just left his own birth Song that spring, and he had kept himself in the company of various temporary Songs as he traveled the lands beyond his pine forest home. But now he was the stallion of his own permanent Song, complete with a new territory to defend. That meant there weren't as many visitors, even if they were on friendly terms with the neighboring Songs. And while these were pine forests, they weren't quite the same as the one he had grown up in. So for both there was a fair amount of adjusting to do.

Things had been off to a somewhat rocky start when the young pair had first arrived at the forest. The discovery of a warm pool of water, warm enough to not freeze in the winter though not as hot as either would really have liked, half surrounded by leafy trees had eased things a little. The forest around it was almost evenly split between the type of tree that each preferred. The main drawback to this area was the relative chill of the water compared to what they were used to. But no other unclaimed place in the forest had seemed as fitting otherwise. And perhaps, once they were a little more established, it might be possible to coax one of the Sharian to help with raising the temperature of their pool. But future possibilities didn't help right now as the weather was getting colder and the water wasn't warm enough to keep the clearing cozy, and just barely warm enough to soak in comfortably. If the weather grew much colder they likely wouldn't be able to soak themselves at all unless they wanted to risk catching a chill after. All in all, while the place looked pretty, it really wasn't nearly as suitable for starting a Song in as the pair had thought.

Unsuitable home or not, the pair did manage to make it through their first winter. They were chilled, too thin, and considerably less than happy by the end of the winter, but they did make it through. But the sight of the first buds of spring starting to form on the trees didn't bring the sense of joy to Twirl that they once had. She was far too worn down by the winter to have the energy to spare. She said nothing, but when Flight tentatively suggested that perhaps they look for a new territory and try again, she heartily agreed. Neither had realized just how rough a winter without a nice hot spring to come back to could be. And so, with a quiet explanation to those they had been living near, the pair picked up and moved out to find a new home.

Twirl had hoped that, since they were moving anyways, Flight might be convinced to give her sort of forest a try. Not that hot springs were any more common there than in the pine forests around here, but fallen leaves made a far cozier bed to spend the winter in than prickly needles that sometimes were hiding even more prickly pine cones. Warmer too. Of course, Flight did have a point that pine trees, especially the fluffy looking ones with the branches that drooped all the way to the ground, made a better shelter than the leafless branches of other trees when the snow or rain was falling. She sighed and continued to trot through the spring forest, absently seeking some place where she might be able to feel comfortable, even surrounded by pine trees as she was. Flight was stubbornly insisting that they take a closer look at what this forest had to offer before they made the trek off to find another forest entirely. After all, they had arrived late in the year, with winter already almost upon them. Maybe without the stress of having to find a place to stay in such short order they would find the perfect spot.

This was hardly Twirl's idea of the best way to spend their early days together, nor was it the most promising start to their lives together. She only hoped that this was not an omen of how things were going to be. But now that the first flush of love was wearing thin, Twirl was no longer quite so certain of Flight as she once had been, or as she wished that she could be. Not that she was ready to leave him or anything, but if he found another mare that he liked, she was certainly going to consider trying to pass on the role of lead mare. Though at the moment they didn't seem to be encountering anyone at all.

Looking up from her thoughts Twirl noticed that they had managed to move deeper into the heart of the pine forest, far from any deciduous trees. The sight of all those looming pines, even taller than the ones around where they had tried to make their first home, was eerie. The green was oppressive here, the needles darker than she had seen before and the bark deep grey and festooned with moss. With a thin squeal she pivoted and fled, heading back to the warmer outskirts. After a puzzled minute Flight followed, though he wasn't quite sure what it was about the pure pine forest that had bothered his mare so greatly.

All of the spring and most of the summer was spent looking for a new place to live, one that would be comfortably inhabitable now, not at some nebulous time in the future when they managed to locate a Sharian and ask for aid. They looked at many places, some quite seriously. But in the end, all were rejected. Twirl was beginning to think that she should have held out for an established Song, continued to look and wait until she found a stallion already settled and proven. This business of founding a Song and finding the right location to live was harder, much harder, than she had expected it to be. Flight was trying, she could tell that he was trying, but he didn't understand her nearly as well as she had originally convinced herself that he did. No, she'd been a fool of a mare, coaxed into accepting by the first stallion promising new adventures to the north. No one from his area had ever come down to her former home before. He had been…different, exciting. It didn't hurt that he was also one of the more handsome stallions she could remember seeing. But beauty wasn't all there was to look for. She supposed that she should be glad he was at least a decent guy under that, just not the perfect match she had thought she'd found. Sweet, but naïve. Not interested in the same things as she was. Not who she'd thought she was founding a Song with.

More than once during their hunt for a place both could accept living in for any length of time Twirl debated asking to break things off. After all, until they found a home they hadn't really founded a Song, had they? Oh, she knew in a vague sort of way that there was such a thing as a nomadic Song, but that wasn't what she had joined for. No, he had promised a set territory, a home of her own with him. Until he provided that, things weren't settled, were they? Over and over Twirl kept debating with herself as to just how that worked. This wasn't really where she wanted to be. Not really who she wanted to be with after all. And yet…she couldn't quite bring herself to tell him that she was leaving, that she'd changed her mind, that this wasn't going to work out. She kept sticking around, hoping that somehow, despite all odds, it would. She wanted it to work. She just didn't think that it was going to.

It was late summer and the birds were starting to swirl in flocks overhead as they began to feel the urge to migrate to warmer climes rising by the time Twirl and Flight found a place that they could settle. Actually, it was Flight who found it. As Twirl grew increasingly twitchy and irritable he had taken to flying ahead and scouting out the region, getting a feel for which directions were or were not possibilities and worth the effort of walking to. He wasn't thrilled about leaving her, especially since she seemed to be putting on some weight, but it was better than the alternative. He did still want her to be his mare…but he also wanted her to be a bit less…moody than she had recently been acting. He kept telling himself that it was just the strain of not finding a home that was getting to her. With any luck that would be settled soon, hopefully they would find a place to live. He didn't want to spend another winter like that last one.

Flight was on another of his scouting forays when the sound of rushing water caught his attention. It didn't sound quite like any rushing water that he had heard before. This place was considerably more hilly than anywhere he had been before, and plenty of things around here were new and different. This one intrigued him. Tilting his wings he soared off in the new direction, heading for the unusual water sounds. The trees here were tall, but widely enough spaced that he could manage to maneuver around between the tops of them, still low enough that they blocked his field of sight. And they grew right up until they were practically on top of the source of the sounds that had attracted him. When he finally broke free of the trees and could see the source of the noise Flight nearly fell out of the air in shock.

His landing was awkward, but at least he managed to keep his feet and not go down in an undignified tumble. Not that there was anyone there to see him, but it was a matter of principle. Once he was secure on his feet Flight took a good look around, expecting that things wouldn't look so splendid on closer inspection. But the place looked just as suitable from here as it had from the air. No, surely there had to be something wrong here. It must already be occupied and the inhabitants simply gone somewhere else. The place looked like it had been shaped specifically for Samanayr habitation. The ground here rose in one of those little hills that looked like it hoped to someday grow into a mountain. From the side of this hill a stream emerged, burbling and tumbling merrily down the hillside. A few levels further down a pool steamed, sending its own miniature stream flowing down to mingle with the cooler waters of the main stream. Parts of the hillside showed clear signs of having been sculpted to form comfortable couches and even slides. A dark spot level with the steamy pool hinted at the existence of a cave to retreat from the worst of the weather in. And yet, all of this was heavily overgrown with moss and covered in fallen branches and leaves. Leaves, not needles. Pines surrounded most of the area, but here, clustered around this seemingly ready made Song, deciduous trees clustered.

This place was too good to be true. It had to be a trap somehow. But there was no scent of predators. No scent of other Samanayrs either. Nothing. Just the crisp scent of pine and the musky scent of old leaves. Cautiously Flight approached one pile and dug at it with one hoof. He was no expert on leaves, but these didn't appear to have been disturbed since they had fallen. The leaves on top broke apart at his touch and those underneath were already unrecognizable. An earthworm or two squirmed away as he exposed them at their work. But how could such a fantastic place have been left abandoned for so long? Were there really so few living here?

Rather than return directly back to Twirl, Flight opted to do a low flight through the area surrounding his find. There must be someone in the area who could tell him why the site was abandoned. What danger lurked there that they would stumble upon if they attempted to move in? Did serpents winter in the cave? Did serpents even live this far to the north in such a cool climate? Was this on the migration route of some dangerous creature? What was wrong with this perfect place? A scanning flight revealed…nothing. He couldn't find any sign that anyone lived in this region at all. That worried him. Surely they hadn't traveled so far north that they were leaving the regions inhabitable by those without the thick coats of a Northern, had they? It didn't feel any cooler than he would expect for this time of year.

In the end Flight ended up heading back to Twirl to tell her about the place and see what she thought. Perhaps she would have better luck than he had in finding some reason why the place had been abandoned. He found it hard to believe that it could be as simple as the old Song growing old and no one ever replacing them. Such a place seemed like the sort of thing that you handed down to one of your foals when you grew old. Or, failing that, a neighboring Song moved into the better location once you were no longer there to defend it. Except…here there didn't seem to be any neighboring Songs. Though his quick flight through had found a handful of other carefully crafted living spots. But those had only left him more puzzled than before. What caused the population of an entire stretch of forest to just vanish?

Twirl was less than enthusiastic about Flight's find, especially once she heard how far away from her current location it was. She was already huffing and puffing along slowly as it was. She was quite ready to stop for the night, or just to give up. But Flight was so convinced that the place was absolutely perfect. He wasn't about to give up until he managed to coax her into coming to see. Though not all his fast talking could keep her moving once the sun went down, especially not when they had just found a stream and a nice clear spot to graze in. He had to accept that it would be the following day, or perhaps even later before they reached the spot he had found. Flight tended to forget how much slower it was traveling on foot through the forest compared to flying over it. And Twirl was moving even more slowly than normal.

In fact, at Twirl's current pace, which seemed to be getting slower by the day, it took them almost two days to reach the spot that he had been able to fly back and forth from in less than half a day. Though the discovery of a miniature river too wide and fast to easily wade across didn't help. That was the sort of thing that Flight didn't notice so much from the air overhead. Another thing about him that exasperated Twirl. It took him quite some time to scout out a feasible crossing point, and even then Twirl hesitated to trust herself to the old fallen tree that bridged the river. But Flight couldn't carry her and there was no other way to reach their destination other than crossing.

Eventually though, despite Twirl's reluctance and slow pace, they did reach the potential new home that Flight had spotted. But it was nearly dark when they arrived, and Twirl was tired. There would be no looking around closely that night. All Twirl wanted to do was flop down by the warm water and go to sleep. And having determined how close they were to reaching the place she had refused to allow Flight to stop them early so that they wouldn't reach it until the following day. She had given Flight no choice really. Twirl had simply kept walking in the direction they had been heading. Flight could either go with her and make sure she stayed on the right path, or he could settle down for the night by himself and catch up to her in the morning. He had opted to stay with her. Dense and naïve as he could be, even Flight had noticed that Twirl was not exactly thrilled with the way things were going. And crabby as she was getting…what if she decided to just keep going? No, best to give in on this and just loose the first impact of seeing the place.

When she woke in the morning Twirl was in a much better mood. The leaf covered sculpted stone that she had slept on overnight was one of the most comfortable beds she could remember sleeping on in quite a long while, if not ever. She was comfortably warm from the steamy water, the leaves had padded the stone, and the stone itself was shaped almost perfectly to fit a sleeping Sam and covered with a soft layer of moss to boot. Not to mention the sun was shining and somewhere off in the distance the sound of birdsong could just be heard over the tumbling water. Yawning and stretching but making no move to get up just yet Twirl took the opportunity to look around and see just what it was that had gotten Flight so worked up.

By the time Flight himself woke it was to the sound of hooves clattering over stone as Twirl industriously trotted past hauling on a fallen branch full of leaves. He lifted his head and blinked, then closed his eyes and shook his head until his ears flapped. Then he opened his eyes again. The scene hadn't changed other than now Flight was trotting past in the other direction, eyes fixed on another of the fallen branches. Even as he watched she reached it, picked it up, and began heading back to wherever she had taken the first one again. On about the third trip past with a fallen branch Twirl noticed that Flight was awake. Stopping in front of him she dropped the branch and gave him a look, then demanded to know why he wasn't helping her. Hastily Flight scrambled to his feet, and at Twirl's direction grabbed the nearest branch and followed her bemusedly. Presumably he would eventually find out what the purpose of this was. But until then, it was the best temper Twirl had been in recently, so if hauling branches around would keep her in it, well, he would haul branches.

Flight never did exactly get an explanation of why exactly Twirl had him hauling those branches into the cave near the hot pool of water. She never exactly told him what she thought of this place either. She simply settled in and set up housekeeping, puttering around and doing her best to turn the abandoned site into a livable environment for the two of them. By the time winter set in she had the cave well lined and padded with any number of leaves and every fallen feather or tuft of fur she had stumbled across. Flight was fairly certain that a few of the tufts of fur had been tugged out of her own sides, and a few looked suspiciously like his fur. But she was happy. In the process of filling her cave with leaves she had also managed to clear out most of the debris surrounding the pool. Once that was gone it was even more cozy looking with the soft cushioning moss and the clear flowing water. Flight didn't ask too many questions about his sudden good fortune lest it suddenly change again for the worse. He just settled down to the idea that this was now his Song and set out to define a good sized territory for himself.

Mapping out in his head just where his new territory was kept Flight occupied and busy while Twirl became increasingly reclusive. It wasn't that she was snapping angrily at him any more, no, more that she was simply spending more and more time inside the cave, coming out to graze briefly and soak in the hot water. Sometimes Flight even took food into the cave for her. That was met with the sort of attitude that he had rather thought mares treated their stallions with and made him feel happy. So he took food into her more often, particularly the sweet fruits and berries to be found further from their Song. He was slightly concerned still since she didn't seem to be loosing all that weight she had mysteriously put on, but she also didn't seem to be gaining any more, so he set the concern aside for the moment. It was good to have a bit of extra put by for winter. Time enough in the spring to try and help her get it off.

This winter was considerably easier on both of them than the last had been. In part because of the isolation of this spot and the lack of any other Samanayrs nearby that they could detect, there was more plentiful food here than in the last place they had attempted to winter over. They also had the cozy cave to wait out the worst of the weather in, a definite improvement over standing out exposed or huddling under the drooping branches of a pine tree. And the constant warmth of the quiet little pool was the final perk. Even though they had traveled further north and the winter here was in fact colder than their last, they suffered fewer hardships.

Nonetheless, Flight was quite happy to see the snow start to melt and spring begin to arrive. At some point during the winter Twirl had gone from the cranky mare whom he had led to this place into a clingy, cuddly mare who kept trying to pin him down and make him listen to her ramble on about the strangest of things. It was with relief that he told her on the first really decent, sunny day that he was going to take a flight and see if anything had changed in the area over the winter. It felt good to stretch his wings and really take a good look around the borders of his Song. To his complete lack of surprise everything was pretty much the way it had been on the last day he'd been able to safely fly before the snow and ice made it too dangerous. Oh, a few trees were down here and there, the rivers and streams, including the one running right past their home, were full of melt water and likely icy cold. Once, on the far edges of his territory he encountered a young Oquiesa which he promptly ran off. Lucky for him it had been one of the smaller sort, smaller even than he was at this age.

Strangely in Flight's eyes, Twirl showed no signs of wanting to leave the cozy little cave and go explore as the weather grew nicer. Attempting to draw her out resulted in her flattening ears at him and baring teeth defiantly. Yet more behavior on her part that Flight just couldn't understand. And since she wasn't exercising, all that winter weight wasn't coming off again. Though her winter coat was, and with a vengeance. She seemed to be using that to further pad the floor of one section of the cave. And now he was quite sure that she was plucking out his loose winter coat while he was still sleeping because more than once he had woken up to find her standing there with a mouthful of his fur. He just…didn't ask. He wasn't sure that he wanted to know.

And then there came the day when Twirl, if anything plumper than ever, gasped one morning as she woke up and drove him out of the cave. Oh, she had some excuse, a search for the first tasty buds of a certain flower which he was fairly certain didn't actually grow up here anyways. But that didn't change the fact that she had bulled into him and all but shoved him out the cave mouth before he was even properly awake. His attempts to return were met with increasingly frantic demands that he go search for the plant and not return until nightfall, regardless of if he found it or not. At last, with a shrug, Flight allowed himself to be shooed away and went to go hunt for the plant.

Of course, as he had expected, Flight found nothing that even remotely resembled the warmer weather plant that Twirl had sent him looking for. As a consolation he did bring back some other tender young shoots. When he returned home, shoots in tow, Flight was surprised that Twirl still didn't seem to have left the cave. Nervously he approached the cave mouth and peered in. What he saw within made him drop his haul as his jaw dropped in surprise. Twirl was…not alone in there! After staring for a moment at the soft grey body curled up against Twirl's side Flight's eyes rolled back in his head and he keeled over in a faint.

When Flight came to again it was to find his mare standing over him with a rather sarcastic look on her face and his new foal sitting right in front of his nose staring soulfully at him. Twirl shook her head at him as Flight gazed dazedly up at her. "Flight, how in all the woyrld did you not know that I was pyregnant? Yreally? Sometimes I just don't believe you…" Slowly Flight's eyes went wide as realization dawned on him. The increasing mood swings, the pudgy belly, the building of a nice little nest… All those things had been because at some point in their apologizing to one another they had managed to create a foal inside of her.

It took some time for Fight to fully come to terms with the fact that he was now a father. For the first month of the little filly's life he would keep starting every time he saw her, thinking that someone had somehow snuck a foal into his territory and left her. It didn't help that her grey color was so…different from either Twirl's or his. Yes, she was young and not showing any patterns that she might eventually grow into, but the fact that her body was a solid grey save for the vivid green eyes and hooves continued to throw him. How his own greens had mingled with his lady's lovely red and oranges confused Flight. But eventually Flight became accustomed to the appearance of his little filly, though until he did so at least he was amusing Twirl. Though now that the filly wasn't inside her anymore Twirl seemed to be in a better mood. At least now he had some idea of what she was like when pregnant, so if it happened again he'd have warning.

However, about the time that Flight finally began to grow accustomed to his filly, he and Twirl began to notice something else…odd about her. Flight had not had any younger siblings born before he left home and it had been a long while since Twirl had last had anything to do with a foal. The fact that their filly was born with no mane that they could see hadn't bothered either of them at first. They had just assumed that it would grow in later. The lack of a fluffy tail was even less of a concern since neither of them had such a thing either. In fact, they would have been more concerned if she had had a long fluffy tail rather than the draconic little thing she had. But as the little filly grew older, there was still no sign that she was going to grow a mane. It wasn't that she was hairless, no, she had a fine coat of fur and perfectly normal little tufts on her legs. Instead, one summer day as Twirl was inspecting the filly's head for some sign that the short coat was going to suddenly going to take off and grow into a long mane, or even a short bristly one, she found something very different starting to grow instead.

Twirl's squeal of surprise instantly attracted Flight's attention and brought the stallion over at the trot. When he arrived it was to have his daughter turn and look soulfully at him, the same as usual, though there was a hint of confusion in those huge green eyes as well. He stared at her for a moment, then turned to look at Twirl. The mare was standing some distance away with her ears flattened back and her own eyes wide and wild. "She has bumps on heyr head! And heyr back!" Flight blinked slowly at Twirl's outburst. He didn't see how that was cause for the sort of alarm she was displaying. They were probably just bug bites. That was one thing he envied those with the hairy tails; they were able to keep biting bugs away with flicks of those long hairs. His own tail didn't bend that way.

Leaning down to see just what these bumps on his daughter were, Flight blinked again. Well, they weren't bug bites after all, that was sure. Not unless bug bites suddenly had become multicolored. The little girl's skin was a shade or two darker than her fur. These bumps were either the same green as her hooves or else a blue that was found on neither of her parents. Bug bites were usually red, maybe purple. Not blue and green. And bug bites itched. Flight had long since noticed that his filly was quite serious and quite. But still, surely she'd have made some move to scratch the little things if they were itchy bites. Anyways, there were far too many of them to be bites.

With his nose practically touching the filly's back, Flight looked her over, trying to find a pattern in the location of the bumps. A thin stripe of them ran down the back of her head and neck to the shoulders. There they spread out to cover the shoulder area and a few more scattered over the rest of her back. Just to be thorough he continued on to examine her little tail. He wasn't expecting to find anything else, but to his surprise the entire bottom of her tail was showing the same little bumps. When he finished Flight looked up, thoroughly confused. "I think she's gyrowing spines. But how?"

That was indeed the question. Neither parent had spines of any sort. Both of them recalled their own parents quite well, and none of them had possessed any spines either. Obviously neither of them was very well acquainted with their grandparents, tradition being that a young Samanayr left their birth Song at two years of age and made their new home somewhere else, seldom if ever going back home once they had settled with a family of their own. And neither of them could remember if their parents had ever hinted at their parents having some sort of spines. But even if they had, was it the sort of thing you told your foals about? Especially if those foals didn't ask about their grandparents? So it was possible, barely, that she could somehow have gotten those little bumps from someone in the family, wasn't it? Flight was quite sure she had to be his, he wasn't at all concerned about his mare possibly having made her with some other stallion. Flight felt too strongly for the little one for her to be someone else's as far as he was concerned. Anyways, they'd hardly seen anyone else and no stallions had come close enough. Flight wasn't quite sure how you made a foal exactly, but he was quite sure you had to touch the mare to do it.

Soon enough it became obvious that the filly was indeed growing spines. And that her mane was apparently going to be made of spines as well rather than hair. After all, that row of spines down her neck was exactly where a mane should be growing from. Flight had looked closely at Twirl's neck to see how her mane grew to make sure. He was still a bit bemused by the whole spine thing, but was willing to overlook it. Other than the odd growths the filly was a fine healthy young girl. A bit quiet, sure, but that was probably just as well since Twirl seemed a bit…unnerved by her. Something about those pretty little spine buds bothered her. Flight could see her trying not to let it show, especially to the filly's face, but the unhappiness was still there.

One day late in the summer, while the filly was off splashing in the cooler waters of the nearby stream to help sooth the itchiness of her growing spines which had started a few weeks after they had first been noticed, Flight decided to ask what it was about them that set Twirl off. Her answer took him completely by surprise. He never, ever would have thought of the sort of explanation for the spines that Twirl had come up with. And when she blurted out her reasoning it was like the floodgates opening on a pent up river of pure nerves.

"Don't you see? Don't you see Flight? It's this foyrest! All those pine tyrees! I told you it wasn't yright to live undeyr so many of them! They'yre affecting ouyr daughteyr! She's gyrowing pine needles out heyr back! And it's all youyr fault! If you had just listened to me and let us live in a proper leafy foyrest this wouldn't be happening to heyr! See what youyr selfishness has caused? She's a mutant now! No one will love heyr, no one will want heyr, she'll be all alone! And all because you just had to live undeyr the pines! Now they'yre in heyr blood and gyrowing out heyr back! How could you?"

When she had finished her rant at Flight, Twirl stood staring defiantly at him and breathing heavily. Flight in turn simply stood there, stunned. He'd had no idea that Twirl still felt so strongly against living in a pine forest. She had seemed so contented here, living under the deciduous trees that dotted this hill mixed in among the pines and other evergreens. And yet she was apparently still harboring quite the grudge against those trees. He didn't think it was even possible for what she was claiming to happen. Certainly he had never heard even the slightest gossip while growing up about a foal being born with pine needles growing from any part of their body. While Flight stood there staring at Twirl, trying to comprehend just what she was saying, trying to make it suddenly turn around and make sense, she got fed up with standing there. With a huff she turned and stalked away from him, heading off to go stand under one of her favorite trees with her head pressed up against its bark while she breathed deeply and tried to get her emotional balance back.

It took some time for Flight to find out that Twirl did in fact like this place that they now lived. There were enough of her kind of trees to make the mare happy. But the foal had not been conceived here, under those leafy trees. Only born here. The place where she had first been conceived was far from here, in one of the stretches of unbroken evergreens as near as Twirl could figure. And it wasn't that she didn't love her daughter, spines and all. But she was never entirely comfortable around the filly who seemed to bring a touch of the eerie quality of the pine forests with her in her solemn little stare and quite movements. She tried, yes, though she had her moments where she just had to go leave the filly with Flight and go off to lean against her tree, but she tried.

At first the filly was obviously too young to find anything odd about one parent abruptly leaving sporadically. But she was growing fast, as Samanayr foals tend to do. By the time autumn arrived she was looking up questioningly at her father every time that Twirl did this. And all he could do was shrug and either pick up the lessons where her mother had left off or resume whatever he had been teaching her when Twirl had abruptly left. The filly's gaze would linger intently on him for a few moments longer before loosing that piercing quality as she turned her attention back to the lesson as well. At times Flight could agree that she was a rather unsettling little filly, but he still found it hard to believe that the pine forests could have anything to do with that.

By the time winter arrived Twirl had more or less stopped periodically freaking out over her daughter and was beginning to be concerned about her for another reason. The filly was over six months old and still had yet to say a single word. In fact, she almost never made any sound at all. Even when she walked through the forest she was unusually quiet, especially for a foal of her age. She seemed to have an innate talent for remaining unnoticed and more than once scared a parent half out of their skin by approaching them from behind and remaining unnoticed until they happened to turn in her direction. This hadn't made it any easier for Twirl to get used to her or get over her insistence that the pine forest had influenced the unborn filly.

There didn't seem to be anything wrong with the filly. Yes, she didn't talk. Yes, she had unexplained spines over large parts of her body that were growing steadily. Yes, she seemed rather too old for her real age. But she still seemed to be a perfectly healthy young Samanayr filly. Just an odd one. Nonetheless her parents did worry, especially Twirl. By the time the first snow was falling Twirl's anxiety had managed to overcome her unease about her filly enough that she would hover anxiously over the little one trying everything she could think of to make the foal talk. The most success she had was managing to startle a little eep out of the foal by jumping out and scaring her. Otherwise the filly just looked back at her with an odd look on her face, those huge eyes too solemn for such a young face.

By the time that winter was heavily enough on them that most days they didn't really try to leave the little cave other than to go soak in the warm waters of their pool and graze, even Twirl had given up on trying to make the foal talk. Flight had given up some time prior, deciding that she would talk when she was ready and trying to force her would just make her baulk out of youthful stubbornness. He continued to talk to her, but did so without any expectation that she would actually replay to anything he said. If it made her happy to just follow her parents around and watch them, then that was fine with him. Talking was overrated.

Winter passed smoothly again, though still with some tension. As with last winter, the tension centered around their daughter, though in an entirely different way from before. And at least this year Flight knew that he had a daughter and more or less why Twirl was on edge. He didn't understand most of it, but at least he knew. To be honest, he didn't really think that Twirl understood exactly why she was so upset by some of the things, she just was. And the filly, the center and source of it all, seemed to be oblivious.

Unknown to Flight and Twirl, their seemingly calm, unruffled, solemn little girl was a tangle of emotion inside. She saw and noticed more than they thought. After all, half the time they didn't know that she had approached them, so they seldom realized how often she watched them. They didn't realize how many quarrels she had observed, or how much of their discussion over what might be wrong with her she had overheard. They didn't know how many times she had ghosted out into the forest and tried to speak. She knew full well how much they wanted her to be able to talk. She wanted to be able to talk too. There were so many things she wanted to say, so many questions she wanted to be able to ask. But the words wouldn't come. They got caught in her throat and came out stumbling and slow, not with the ease or pleasant sounds of her parents. And so she had to rely on her eyes to convey her questions and feelings as best she could. Which often didn't' seem to be a very good best. And now she was afraid that the little progress she had made on being able to speak would be lost. Winter didn't allow one to get away and be alone very readily, particularly not when you were as young as she was. Her parents were hardly going to allow her to walk away from them out into the cold icy forest without a reason. And since she couldn't really talk…she couldn't exactly give them a reason why she was leaving. Which mean that she was getting more and more out of practice and probably loosing what little skill she had gained.

All this combined was making the filly rather depressed. She began to droop and pine, spending long stretches of time laying in the entrance to the cave and staring silently out over the snowy white forest. None of her parents' attempts to cheer her up met with any success, because all they did was remind her that she couldn't talk and was too afraid to try where her parents could hear her clumsy attempts to make her throat form the words. By the time warmer weather began to arrive she was too thin from lack of interest in food. Her fluffy winter baby coat was beginning to patch out in clumps, but the new yearling coat was nearly as dull as her foal coat had been. Only a few greenish patches were appearing amidst all the grey. As soon as her parents were willing to let her wander alone again she took to spending as much of her time as possible out in the forest, alone. All her mother's old concerns about what an unnatural foal she was continued to echo through her head, leaving her with little desire to resume her speech practice.

It came as a surprise one morning when, as she attempted to wander off unnoticed once more, her mother stopped her. It didn't really look like Twirl particularly wanted to as she kept glancing back over her shoulder at Flight who would nod quietly at her. For a long moment Twirl remained silent, one front hoof scraping absently at the ground, looking for all the world like a misbehaving young foal waiting to find out what her punishment was going to be. After a bit she cleared her throat. "You'yre a yeayr old now." The filly nodded slowly, uncertain of what this meant or why it was important. "That means you ayre old enough to have a name." Now things were beginning to make a bit more sense, though the filly felt her heart sink a bit at the news. She feared just what her mother might feel was a suitable name for her, since she had never really been able to communicate with her parents at all.

"I wasn't suyre what to call you foyr the longest time. But this winteyr it came to me. Youyre mood and the foyrest both pine. The yrest, I had yratheyr not explain it. But you will be known as Pining of the Poison Ayrrow fyrom now on. Even if no one else eveyr knows it since you won't talk…"

During most of this speech Twirl was looking anywhere but at her daughter; up at the sky, down at her hooves, over Pining's shoulder. At the last she cast a glance out of the corner of her eye at Pining. The yearling filly was just…standing there, staring at her mother. "Mu-mu-muh-my n-n-nu-na…" Both parents turned to stare at their daughter, shocked, as she began actually making sound. It seemed that their stares alerted Pining to the fact that she was doing so, and under her dark grey fur her skin reddened with an embarrassed flush. She turned and ran, bolting for the forest, trying to outrun the shame of having revealed to them how incapable of speaking she was.

Behind the fleeing Pining her parents exchanged shocked looks, then Flight took off after her. "Wait, Pining, come back!" It was impossible to say if she heard him or not through the rushing winds of their passage and her own despair. Certainly she didn't stop running. She didn't stop running for quite a long time, not until she was gasping for breath and aching in most every muscle in her body. As she slowly sank down to the ground under one of the many pine trees a flurry of wings made her look mournfully up. Her father landed in an awkward rustle of wings, overly rushed and rather abrupt. Abrupt enough that he wound up sitting down rather than simply landing from the sheer force of impact.

Whatever comforting words Flight might have intended to offer had to go unheard as he was just as winded as his daughter. For a long while they simply remained there staring at each other, each Samanayr panting heavily as they fought to get their breath back. Pining lacked the drive to make herself look away, though her large eyes were filled with grief. She recovered first and slowly tucked her legs in under her body and lay her head down on the ground, eyes closed now as she waited for whatever scolding her father had chased after her to bring. He might not be much on scoldings, but surely she had one coming now.

"Eyrm…well…I suppose I can't ask you why you neveyr told us. Well, I guess I could, but I don't need to since it's a little obvious. I wish I knew how to fix it. But talking isn't eveyrything you know. You've done pyretty well without it. Theyre's always finding a Healeyr. Oyr maybe a Mystic. Even the Shayrian maybe. If you want to talk. If you don't that's fine too. Just eyrm…"

Under Pining's disbelieving stare Flight's rambles faded off and he pawed the ground uneasily. He really didn't know how to comfort someone who couldn't talk. There were other ways to communicate, but none of them were as easy to understand for something like sharing your name or asking a question. And until just today he'd hardly heard her make any sort of sound, no whistles, no chirps, no wordless singing. A silent Samanayr was a very strange thing to contemplate. Vocalizations were the way they communicated. He knew, in a vague sort of way, that other species, including the Sharian, had other ways of communicating with others, but they weren't anything that he knew about enough to offer them to Pining. And anyways, it apparently wasn't that she couldn't talk…she just couldn't do it very well.

It took Flight some time to coax Pining back home, and even longer for them to be able to trace her panicked flight back to the Song and Twirl. During that entire time Pining would scarcely even look at her father and kept her head hanging down in shame. At first Flight had continued to attempt to cheer her up, but as nothing even raised a grin or acknowledgment his chatter slowly dwindled down to nothing. When they finally managed to return home both were silent and unhappy looking. Pining because she thought her parents would reject her now, Flight because his daughter was miserable.

For the next few weeks the Song was unusually quite and miserable. No one quite knew how to deal with the extreme stuttering and stammering that Pining went through whenever she tried to talk. Now that the possibility of one day managing to learn how to do it properly and managing to say a perfect first word to her parents was gone Pining no longer really tried. They'd already heard how much trouble she had getting out even a short little word like 'my'. Why bother anymore?

Surprisingly, it was Twirl who broke the downwards spiral of depression that Pining had sent herself into. For awhile she had taken to avoiding her daughter, but finally, one day she just bulled up to Pining and demanded to know just what was so bad? Ignoring Pining's startled bleats as she attempted to say something Twirl pushed on ruthlessly. Pining was in good health, she had enough to eat, she had all her limbs, even if she also had odd spines. Pining had a family, she had a home. Just what was wrong with her that something as stupid as not having a voice could make her so miserable? Once more tears were welling up in Pining's eyes, but they were as much angry tears as sad ones this time. There were so many things she wanted to say in response to her mother's angry ranting. But she couldn't, because she couldn't talk! She could never counter anyone's bad words about her, never deny or admit to something. Never do so many things!

Finally Pining had had enough. Pivoting away from her mother with a wordless angry squeal she started to run away, only to be followed by her mother's parting words. "So woyrk hayrdeyr on talking if it botheyrs you so much! Don't just quit like a cowayrd!"

It was several days before Twirl or Flight saw Pining again after that. Flight was almost certain that an unrepentant Twirl had gone to far with her outburst and driven their daughter away from them for good. He was right in the middle of waxing eloquent to Twirl about how he'd never even gotten to say goodbye and how there were so many things he still had wanted to show Pining before sending her off to seek her own life when Pining returned. As usual she didn't make enough noise to be heard as she approached. The first sign either of them had that she was back was a quiet "N-n-no." in response to one of Flight's complaints. Both parents twisted around to face Pining as she stood half defiant half defensively a foot or two away.

Flight rushed forwards, almost impaling himself on several of Pining's longer spines as he tried eagerly to nuzzle her all over and reassure himself that this was indeed his wayward daughter. While he was doing this Pining stared in angry yet fearful defiance at her mother. Finally she spoke again, still stuttering and stammering over the words a bit, but managing to get out just a few words. "Puh-p-pining u-of th-e P-poi-son Ay-ayrr-ow." All the time that she had been gone she had been determinedly practicing those few words, the words she felt she most wanted to be able to share with others that she might meet. For a long moment silence hung in the clearing after she had finished, then Flight erupted upwards with a triumphant shout as Twirl slowly nodded once.

The remainder of Pining's last year at home was still a tense time for her. Pining had never been quite sure what to think of her mother, and that feeling had only gotten worse as she got older. And now there was a very direct sense of being challenged by Twirl at everything that Pining did. Suddenly nothing was good enough, everything could be better, Pining was never trying hard enough at anything at all. Even when winter arrived things didn't slack off in the slightest. If anything, they got worse as now it was much harder to escape for some time alone, and even if she did the snow left a clear track to her for Twirl to follow.

Pining would never admit it, but that winter of being constantly challenged did improve her ability to talk. Not because Twirl was challenging her to talk, in fact that was the one area that Twirl didn't directly go after. But the only way to get her to stop for even a short time was to say something to her. She didn't take hints at all. It was either a direct request, a demand, or nothing at all. Which in turn did encourage Pining to get over her fear of trying to talk since in the heat of anger it was easier to just let the words come exploding out, regardless of if they were right or not. It defiantly didn't make for an easy winter though. Especially not for Flight.

The poor stallion was caught in the middle. On one hoof, he knew what Twirl was doing (though only because she had told him what she planned in the autumn for the sole purpose of preventing him from well meaningly interfering with her plans) but that didn't mean he liked it in the slightest. He did what he could to bring a bit of cheer back to Pining, but every time he went further than Twirl wanted his mare would turn her tongue on him instead for a bit. It wasn't a tactic she had planned on using, but it worked as well. Pining was faster at coming to her father's defense than she was to her own. Twirl still had a delicate balancing act to maintain though. She knew full well that if she pushed her daughter too far all at once it was very possible that the reaction she eventually got would be physical rather than sticking to verbal.

Despite all this Twirl managed to keep her little game up all winter long. By the time spring brought the melting of the snow and the return of young buds to all the deciduous trees tempers were worn thin and patience was nearly at an end, but the family had managed to survive. Near the end Pining's temper had given out and she had lapsed into sulky silence, refusing to rise anymore to her mother's taunting, but her speech had vastly improved over what it had been the autumn before. She still stumbled over the words, especially words that she seldom used. She still preferred not to talk but rather to let her eyes communicate her feelings to others. But at least she could talk when nothing but words would aptly get the meaning across.

It was somewhat before her second birthday when Pining left her birth Song to strike out on her own. She loved her parents, especially her father, but she just couldn't stand to be around her mother any longer. Not now, so soon after that horrible winter. And so, as soon as the snow had melted leaving the way out of the forest clear she said her goodbyes, very carefully nuzzled her father one last time, and headed south. Maybe there she would find someone who could do what her mother couldn't and accept her as she was.